Whether you are a 2-people company or a large corporation that employs hundreds of men and women, you will probably want your workplace to get cleaned at least occasionally.
Maintaining a clean and sanitary office environment is in fact essential to the success of your business. Your customers demand it and your employees will thank you for it. 
While cleaning can be fun, a larger workplace will demand more attention and time to maintain a good working environment. This is where professional cleaners come into play; experienced companies will most likely have developed effective cleaning techniques and solutions through their previous experience and be able to provide you with great results in the shortest possible time.
But with so many different companies out there, how can you be sure that you are choosing the right one?
Here are a few things you should look for while selecting a professional cleaning company to take care of your ongoing or ad-hoc cleaning needs:
Reputation and experience of the company
It goes without saying that a company who will have access to your workplace when you are not around and work unsupervised, needs to be reputable and trustworthy. It is therefore important to do your own research:
HOW ESTABLISHED IS THE COMPANY?
Is it physically present in your city, town or service area? This will be very important when prompt reaction is needed and emergency meetings or inspections need to take place.
HOW LONG HAVE THEY BEEN ACTIVE?
Companies that have years of experience behind them will most likely have developed a system for cleaning and are comfortable handling any cleaning issues involved.
HOW MANY AND WHAT TYPE OF ACCOUNTS ARE THEY WORKING WITH?
The company working with a number of accounts tends to be a good indicator of a solid reputation. Additionally, if the company works with facilities similar to yours, it will be able to better understand and accommodate your needs.
ARE REFERENCES AVAILABLE?
Reputable companies will be happy to share references. Contact these references and ask how happy they are with the cleaning services that the company provides; word-of-mouth is a great way of finding out if a company can be trusted.
What can the company offer?
Before saying 'yes' to a company, make sure they will be able to meet all your cleaning needs. A few questions to ask:
ARE THEY LICENSED AND INSURED?
Make sure the company has a proper licence to operate as a labour hire provider. Request proof of insurances to be certain that everyone is covered for any mishaps – an insured company will be responsible if an employee is injured at your facility and will be liable if anything gets broken or damaged.
IS THE COMPANY OFFERING A FREE QUOTE?
A professional company will come out and visit your site to learn your cleaning needs, see the work space they will be dealing with and finally to be able to provide a customised quote. Make sure the company doesn't charge you for this little trip; a quote should be free of charge and exclusive of any future obligation should you choose not to accept it.
WHAT TYPE OF CLEANING WILL THEY DO?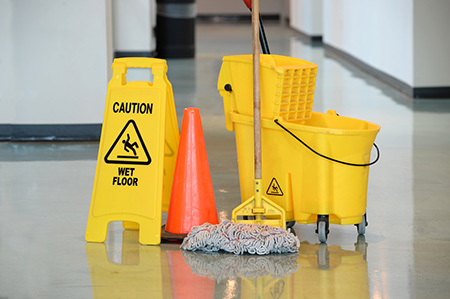 It is most likely that you will not want any hassle with cleaning whatsoever; after all this is why you are hiring a contractor in the first place. This means that you will want the company to supply their own cleaning equipment, tools and chemicals.
You may want to take this a step further and explore the possibility of outsourcing the restocking of consumables to the cleaners as well, or even have them manage your waste collection. Think ahead what other responsibilities can be given to the cleaning company in order to free up your own time, which you can then invest into growing your business.
Define well how cleaning is done to make sure the services suit your needs – do the cleaners do washing, scrubbing and sanitising, not just simple dusting and vacuuming? What rooms will need cleaning and what will need to be addressed in each room? Try and go into as many details as possible to find out what you are actually getting.
WHAT TYPE OF FACILITIES DOES THE COMPANY SERVE?
Different types of facilities have different needs and cleaning requirements. Experience matters here, and the company that has worked previously in a facility similar to yours will better understand your needs and will know how to meet them. Ask the company to provide you with a few references to check on.
WILL THE COMPANY CATER TO YOUR SCHEDULE?
What is the most convenient time or day for you when cleaning can take place? When hiring a cleaning company, you may not want them to deliver cleaning services while people are working in the office or children have class. You will want cleaning to be done after hours, or even before opening early in the morning. Make sure you check with a potential cleaning company if they can accommodate your schedule and if the cleaning crew can work unusual hours, even night shifts, weekends or holidays.
Obviously, you will want a company that offers a good deal for their time. Although price is not always indicative of the service level you will receive, try to find out how well the company remunerates the cleaners. A poorly paid cleaner will surely not bother to mop the floor behind doors or underneath a bin.
Many companies will also offer a discount for the initial clean, or will add extra services at no extra cost, such as a free window clean. In any case, it is worth asking what you can get.
Frequency also matters when determining the price. Usually, the more regular the service is the cheaper it will be in terms of cost per visit.
Make sure to request a flat rate per service to ensure you are always paying the same price, no matter how long a service might take. With a flat service rate, detailed cleaning specifications will need to be defined in writing, so you know exactly what is included in the price. Anything beyond the scope of works will be considered as additional cleaning services, and will be quoted separately on request.
DOES THE COMPANY COMMUNICATE WELL AND ASSIGN A DEDICATED ACCOUNT MANAGER?
A quality cleaning company will assign to you a dedicated account manager who will be available for support, and be able to respond quickly to your concerns and questions. Having one person to deal with all your cleaning needs ensures that this person understands everything that has been going on at your site and is able to provide you with the best and most effective solutions.
Employee Training and Screening
Quality cleaning companies will take hiring very seriously and will make sure the staff they take onboard are well qualified, trustworthy and properly trained. It is a good idea to ask the potential service provider about their training and screening policies:
Do they provide staff training in cleaning, safety, and professionalism? This is an important part as well-trained cleaners will know what they are doing, what things they need to look for, what they are allowed to do or not, and they will be able to handle different and challenging situations while at work.
Does the company perform background checks before hiring? Any company who care about their reputation will hire reliable and trustworthy cleaners. After all, the cleaners will have access to your site and will be working unsupervised most of the time and it's important to know that they will treat your facility with respect and care.
Will only one cleaner or cleaning team be responsible for your location on each clean, or will there be someone else cleaning each time?
Having a dedicated cleaner will ensure consistency in the service quality. The cleaning team who know well your site and cleaning needs, will be able to perform much more efficiently, organise themselves better and prioritise tasks. Cleaners who know every nook and cranny, what to look for, and what areas need more attention, will give you a peace of mind that you are leaving your site in safe hands, and that your site will be well taken care of and secured once the cleaning is done.
---
Cleanaux is an Australian professional cleaning service provider specialised in delivering high-quality comprehensive facility services. Please feel free to contact us for more information, free custom-made quote, or advice: info@cleanuax.com.au or 1300 277 009